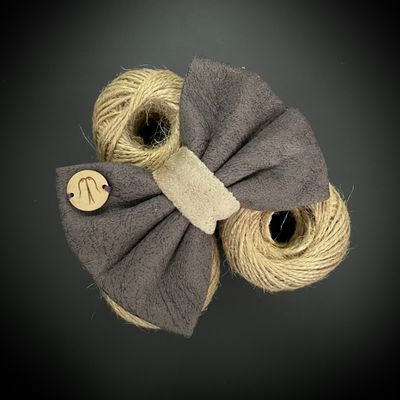 Bow Chesterfield Collection Taupe Small
$34.99
or 4 interest free payments of $8.75 with
learn more
Our Chesterfield Collection is made of a faux leather fabric to bring some classy fashion to your pet's wardrobe.
The bow is secured with a velcro which makes it easy to use on a collar or a harness.
When purchasing, please add 1-2 cm tolerance due to the bow being handmade.
Size Guide
XS: 9 x 12cm
S: 10 x 13cm
M: 15 x 18cm

Please note : This is part of an exclusive range and there is only one size and colour per bow.
Always make sure you are monitoring your pet while they are wearing the bow. Although these products have been tested on pets before, it is always a great idea to monitor them wearing this.

Care Instructions: Spot clean only.

We ship within New Zealand and out to Australia! Your shipping cost will be added at checkout. If you are outside either of these countries, please DM us to place an order and we will get back to you with a quote.

Handmade with love in India.
All prices are in New Zealand Dollars (NZD) including GST.
SKU: 1035